Embracing Shutterstock's Rising Trends in Creative Design
Kelly Konya
Every year, Shutterstock – a licensed footage, photography and music company based in New York City – releases a report of the top trends in creative design. Based on billions of image, video and music downloads from customers across the globe, Shutterstock's most recent report was released this January and provided valuable insight into what will be this year's most popular design and advertising choices.
Shutterstock's 2019 Creative Trends Report surfaced 10 major and rising design trends that will take precedence in projects this year, many of which "echo the past in a playful and decadent way."
For art directors and their design teams, the report delivers a helpful point of access into the creative styles audiences will be most likely to engage with and share.
According to Shutterstock's Chief Marketing Officer (CMO) Lou Weiss, even the most talented creative professionals could use a little fresh inspiration for their next big project, and the report aims to unearth this type of innovative thinking.
Major Trends
The report first pinpointed the top three major trends for 2019, which include: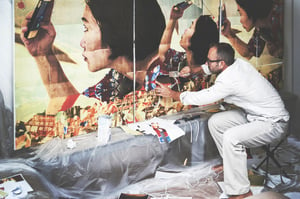 In the digital age, zine culture lives on in the decentralized mindset of social media, where independent creatives can mass-share ideas and niche groups can discover their specific interests. Shutterstock has seen a +1,376% jump in "contemporary art collage" searches, which suggests a penchant for paper cut-outs, noise and grain textures, along with rough-edged layers and an overarching "raw" look.
80's Opulence
In 2019, the 1980's are back. The main keyword for this trend is clashing—which means mismatched prints, patterns and colors. This inexplicably harmonious trend defined by garish, competing elements is a result of four common searches increasing drastically on Shutterstock:
Elegance pattern – up 1,060%
Chain print – up 731%
Leopard print pattern – up 168%
Snakeskin pattern – up 157%
Yesterday's Tomorrow
Picture a science-fiction book cover from the 1970's and you'll be visualizing the final of the three major trends. With searches for "synthwave," "retrowave" and "duotone" rising dramatically in recent months, there appears to be a revitalized interest in the aesthetic that once defined futurism at the dawn of the digital age. This design style encompasses a heavily visual style, teeming with basic vector graphics, dreamy synth music, and purple, blue and pink gradients.


Following the report's release, Shutterstock's CMO Weiss commented, "...our top three trends are influenced by the bold design principles of years past, so it will be particularly interesting to see how they evolve with modern interpretations best suited for today's digital platforms."
Rising Trends
The report also identified seven rising trends that will take he stage in 2019, which include both unique illustration styles and urgent global issues.
The most popular rising trend, with searches for "cute illustrations" surging in recent months, is "Kawaii" design. This culture of cuteness was first born in Japan but has been making waves across the globe as a welcomed distraction to present uncertainty. The Kawaii style features sweet-faced inanimate objects (like sandwiches and dancing kittens) and joyful, paste-colored vectors.
Another rising trend is what Shutterstock believes is a response to conscious, environmentally friendly consumerism. The design trend, called "Beyond Plastic," reflects our changing attitudes towards saving the planet and practicing sustainability. As a result, searches for "plastic free," "bamboo toothbrush," and "hemp" are on the rise in a big way.
Other rising trends include: "Kalamkari," which encompasses ancient Indian printmaking and painting on fabric with natural patterns and intricate motifs; "Rococo Romance," which is characterized by rich and elaborate art, romantic undertones and artistic maximalism; and "Prism," which, as one might suspect, includes dazzling rainbows enveloping 3D shapes and rippling in-motion graphics.
Shutterstock's 2019 Creative Trends Report is a perceptive analysis of the world of design as it relates to marketing and advertising. In the upcoming year, we expect to see these vibrant, recognizable styles and patterns popping up left and right—especially in our own projects!
---
---
Need a flyer, video, or graphic for your upcoming event? The Impact Group has got you covered when it comes to creative design. Visit our website to see a portfolio of some of our favorite design projects, or schedule a free consultation to learn about our artistic offerings.